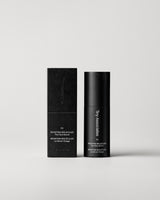 Boosting Molecules 01
Description

The Face Serum Boosting Molecules 01 is a nourishing, daily water-based concentrate. Formulated to visibly smooth skin texture and to unify skin tone. Clinically proven to maintain a healthy skin microbiome (the skin's natural bacterial flora).

Contains 12 different molecules naturally occurring in the skin, and patented pre- and postbiotics. Its low molecular weight formula supports skin penetration. Designed for daytime use. Fragrance-free.


A new generation of natural skincare products. Skin microbiome-gentle. And formulated with skin-natural and sustainably brewed natural ingredients.

 A new natural. The future of skincare.
Function

· Tone unifying
· Texture smoohing
· Restoring
· Hydrating
· Energizing
· Soothing
· Microbiome-gentle
Skin type

· Normal
· Dry
· Oily
· Combination
Key benefits

Visibly smoothes skin texture and unifies skin tone.
⋅
Promotes elasticity and strengthens the skin barrier.
⋅
Clinically proven to maintain the health of the all-important skin microbiome (the skin's natural bacterial flora).
⋅
Reduces and helps to prevent the appearance of fine lines and wrinkles.
⋅
Protects against environmental aggressors.
⋅
Helps to soothe and calm irritated skin while protecting against redness.

How it works

Clinically proven to maintain the skin microbiome. The results of our in vivo tests (on humans) show that The Face Serum will not disrupt the skin microbiome. It also shows a marginal increase in microbial diversity – indicative of a healthier skin microbiome.
⋅
Contains lipids and amino acids naturally occurring in the skin, such as Cholesterol, Phytosphingosine, Proline, Serine, Threonine, as well as Ceramide NP, Ceramide AP, Ceramide EOP, which together help to restore the natural systems and barrier function of skin.
⋅
The sustainably brewed natural Alpha Bisabolol (identical to a molecule that exists in candeia trees) helps to soothe and calm irritated skin while protecting against redness.
⋅
Two sustainably brewed natural Exopolysaccharides (identical to molecules produced by marine microorganisms) helps promote a healthier, more even skin texture.
⋅
Calcium Ketogluconate acts as a skin firming agent.
⋅
Also, the prebiotics Inulin and Fructose, as well as the postbiotics Saccharide Isomerate, Lactobacillus Ferment Lysate and Lactic Acid work together for the skin microbiome.
How to use

Apply 2-3 pumps in the morning. Massage onto face. Also suitable for nighttime use.
⋅
Engineered with molecules able to penetrate the skin, The Face Serum gives the sensation of being fast-absorbing upon application. Molecular skincare is a new skin experience. Leaves a fresh finish.
Clinically proven

Tiny Associates conducts advanced in vivo tests* to understand the microbial implications our products have on the skin microbiome. The clinical results indicate that our products are microbiome-gentle.
⋅
*Based on qPCR analysis.
Ingredients

Aqua, Butylene Glycol, Niacinamide, Glycerin, Propanediol, Lactic Acid, Calcium Ketogluconate, Inulin, Tocopheryl Acetate, Sodium Lauroyl Lactylate, Betaine, Lactobacillus Ferment Lysate, Bisabolol, Sodium PCA, Sodium Lactate, PCA, Ceramide NP, Ceramide AP, Phytosphingosine, Cholesterol, Saccharide Isomerate, Serine, Alanine, Glycine, Fructose, Glutamic Acid, Lysine HCl, Threonine, Arginine, Proline, Ceramide EOP, Xanthan Gum, Hydroxyethylcellulose, Carbomer, 1,2-Hexanediol, Phenoxyethanol, Potassium Sorbate, Sodium Benzoate
Shipping

Free shipping worldwide. UPS Standard & Express.